In November 2014 a Hungarian delegation visited Vietnam in order to strenghten the cooperation between the two countries in nuclear field. During the visit the delegation of the renowned Hungarian firm, the Gamma Technical Co. donated a Beta-Gamma integral spectroscopy system to the Hanoi University of Science and Technology for educational purposes. Vietnam has recently decided about establishing a nuclear power plant in the territory of the country, therefore receiving this system is a significant help for the University with the training of future professionals.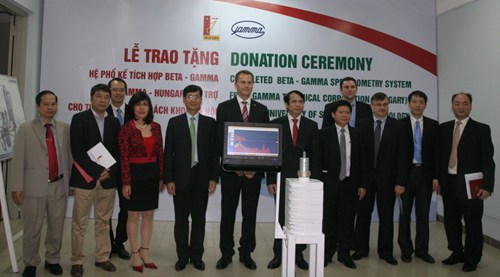 Among the members of the delegation were Mr. Attila Zsitnyányi, General Director of the Gamma Technical Co. and Mr. László Thuróczy, General Director of CETEMCOM Ltd. as well. On behalf of Vietnam, the Deputy Minister of Education and Training, Dr. Pham Manh Hung has said at the donation ceremony that "This event marks a new step of development in implementing the Agreement between Vietnamese and Hungarian Governments about the cooperation in training and researching the nuclear energy field for peaceful purposes".
This equipment is the most modern Gamma-Beta spectrum energy radiation measuring system in the world including raphite slats, computers and detecting heads. The equipment will be used for basic researching and training in nuclear field and will contribute to master the nuclear technology in Vietnam in the future.
The Vietnamese media has also showed great interest in the event, a program about the donation ceremony was broadcasted on the most watched Vietnamese TV channel during primetime.
You can watch the video and read more about the event on the following links:
http://vtv4.vn/videodetail/12566
http://nangluongvietnam.vn/news/en/nuclear-renewable/hungary-presents-vietnam-a-nuclear-researching-equipment.html
http://vovworld.vn/vi-VN/Tin-tuc/Tap-doan-Gamma-Hungary-tang-thiet-bi-phuc-vu-dao-tao-trong-linh-vuc-nang-luong-hat-nhan-cho-VN/285516.vov
http://vovworld.vn/vi-VN/Van-hoa-Xa-hoi-Doi-song/Hop-tac-giua-Viet-Nam-va-Hungary-trong-linh-vuc-nang-luong-hat-nhan/286710.vov
http://www.tienphong.vn/giao-duc/truong-dh-bach-khoa-ha-noi-tiep-nhan-thiet-bi-tu-hungary-782104.tpo
http://news.vn/giao-duc/giang-duong/419163-Truong-DH-Bach-khoa-Ha-Noi-tiep-nhan-thiet-bi-hat-nhan-phuc-vu-cong-tac-dao-tao-va-NCKH.html
{phocagallery view=category|categoryid=11| limitstart=2|limitcount=10|detail=0|displayname=1| displaydetail=1|imageshadow=shadow0}