2 workshops - organized by CETEMCOM Ltd. - were held in Vietnam (Hanoi and Ho Chi Minh City) on 12th and 15th of May 2015 where the most renowned Hungarian device manufacturer, Gamma Technical Co. presented their TVS-3 series Environtmental Monitoring Stations.
The main content of the workshop included the following issues:
Introduction of the air and water environment automatic monitoring systems according to European standards in Hungary

Exchange, sharing experience in the process of construction, installation and operation of the air and water environment continuous automatic monitoring systems in Hungary

Introduction of the equipment's environmental automatic monitoring system, analysis of advantage of the air and water automatic measuring stations produced by the Group GAMMA in the construction and operation with conditions of Vietnam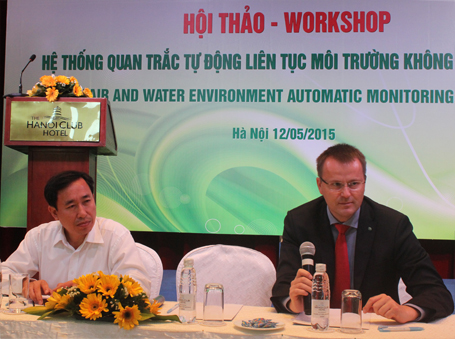 Among the participants were:
Representatives of leaders of the Vietnamese General Department of Environment

Representatives of the Vietnamese Center for Environmental Monitoring

Representatives of a number of units under the Ministry of Natural Resources and Environment of Vietnam

Representatives of the Department of Natural Resources and Environment of Vietnam

Hungarian delegation of Group GAMMA led by the General Director of Consortium

Representatives of the Group GAMMA in Vietnam
About environmental monitoring stations:
With environmental monitoring stations and systems it is possible to improve the accuracy of weather forecasting and to measure the concentration (emission or immission) of environmental pollutants, such as industrial gases, chemicals and toxic materials, urban contamination, and thus, the monitoring stations have an outstanding environmental protection function. The systems are equipped with various meteorological sensors (wind direction and speed measuring device, thermometer, relative humidity meter, barometer, rain sensor, etc.) in order to be able to precisely indicate the expected weather, forecast the exact timing and intensity of rainfall and storms. The stations can also draw attention to the emergencies and natural disasters that are likely to occur.
Traditionally, these environmental monitoring stations are located in containers. It is a proven, well-functioning solution, however the installation and maintenance of them is very expensive. In addition, experts can examine the measured data only on the site, thus, for the operation, there is a high labour force demand and as it is an offline system, any intervention is slower compared to online systems.
The Gamma Technical Co., operating in Hungary since 1920, has developed a new type of system. The stations that form part of the TVS-3 series are small stations with online data processing. Each station requires no more space than 2 square meters, they cost significantly less than the containers and can be set up easily. They can measure everything that the equipment located in containers can, and it is possible to build an entire network with a single, central data processing unit which enables efficient and cost-effective operation. Moreover, the stations can have a positive effect on agriculture, as they are equipped with a hygrometer, allowing agricultural forecasting. With a station it is also possible to measure dust concentration – which nowadays causes serious problems in crowded cities – by integrating the optical dust measurement systems.